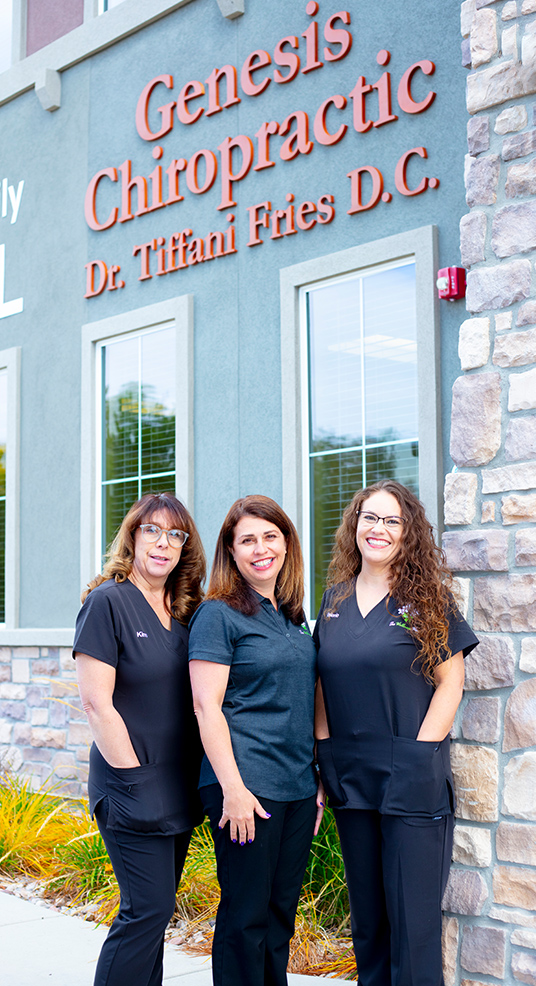 Dr. Tiffani Fries and the staff at Genesis Chiropractic takes a comprehensive approach to help you feel your best. We believe every person is different and as such has their own set of symptoms and health goals that are right for them.
Chiropractic care and wellness services go far beyond the well known spinal adjustment. Chiropractic treatment focuses on the balance of the body systems and how the body functions as a whole.
Since 2002, Dr. Tiffani Fries has been helping Sandy patients like you in find relief through personalized treatment plans. To be effective, we utilize multiple treatment techniques to focus on uncovering the underlying imbalances that are causing you pain and treat those issues.
Whether you're suffering from back pain, injury related symptoms, pregnancy discomfort, or any other issue, Genesis Chiropractic can work to help alleviate your issues and make you feel more balanced.
Sandy is a city in Salt Lake County, Utah with a population of 96,380. Permanent settlers first moved into Sandy during the 1860s and 1870s because of the availability of land in the less crowded southern end of the Salt Lake Valley. The original plat was essentially one square mile, situated on an alluvial terrace running north and south along the eastern edge of the Jordan River drainage system and paralleling the mountain range.
Sandy Resources:
Sandy Historical Society – The Sandy Historical Society & Museum has been the collector and guardian of the history of the Sandy area since 1926.
Sandy Amphitheater – The Sandy Amphitheater offers incredible mountain sunsets, an intimate open-air concert experience, and the laid back atmosphere are truly unique and one you will not find anywhere else.
The Shops at South Town – The Shops at South Town offer a superior one-stop shopping experience with over 100 retail, dining, and entertainment options.